My Tattoos

*** right here is my very first tattoo. I got this when I turned 18. Its a tulip with ivy and there are even a couple lady bugs too! I also have a butterfly on my back but I dont have a picture of it right now....see ya!
** here is my tattoo on my left arm its a tribal this guy drew up and it also has ivy on it (love it)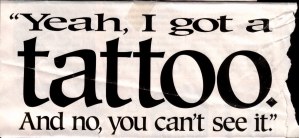 **here is my most recent tattoo (lower middle of my back) this picture did not come out very well. I will have to take a better one. I got this in memory of my dad who died of cancer in 98. Hess very special. Its a picture I drew up of the zodiac Pisces (which we both are). It means allot to me and represents the two of us. I love it. Its allot cuter in person and more colorful... better pic to come!