More on ME~*



IM 22. I am originally from Las Vegas. I love Las Vegas but I hate living there. So that's why my boyfriend and I moved out here. Colorado that is. :O) We both agree that it was a very good move and we dont regret a thing. We have sorta built ourselves back up out here so were probably gonna stay! Nothing but good has come out of us being here. I have a good job that I love. DeeJay has a kick ass job which pays well. So I cant really complain. I guess I can type more when I think of more to type this place is always under construction. Alright IM out! :o)
**HEY GUYS IM BAACK. WELL I JUST ABOUT GOT MY WHOLE WEB PAGE COMPLETE... HOW COOL. ITS MY FIRST ONE AND I THINK IT TURNED OUT OK! WELP IM STILL OUT HERE IN COLORADO. . THATS SORTA COOL. ANYWAYS I DUNNO WHEN OR IF ILL WRITE ANYMORE HERE. BUT CHECK BACK AND SEE , ID LIKE TO KEEP WRITING MY THOUGHTS. ....WE'LL SEE!
LATER.............ANG

I also have a couple tattoos heres a pic of one... my first one (its a tulip with ivy around it with a couple ladybugs on some leaves)
*****the dog on top of the stairs was my dog baby.. had her since I was very young we had to put her to sleep recently**:o( and the other dog is brandy shes a brat!!!**************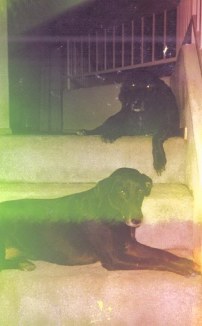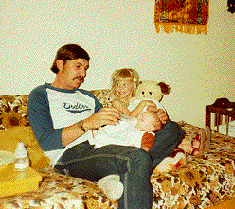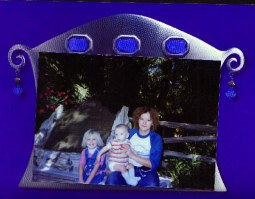 That picture is of my dad and me when I was pretty young. The one in blue is of me my brother and my mom on vacation one year. Love it. The one below is my all time favorite picture its all three of us together (love it :O)). And that is my mom and dad after they got their marriage license...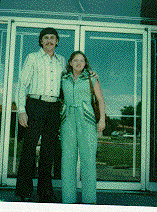 **WELL AS YOU CAN SEE I HAVE BEEN PUTTING IN NEW STUFF EVERYDAY I AM CONSTANTLY CHANGING IT UP. I AM GOING TO BE TRYING OT SET UP LIKE A yard SALE PAGE. WITH SOME COOL STUFF TO SELL. I HAVE A WHOLE LOT OF CLOTHES NEVER WORN AND JEWELRY TOO. I DUNNO I AM STILL THINKING ABOUT ALL THAT. BUT FOR NOW I AM JUST GOING TO IMPROVE WHAT I ALREADY HAVE DONE! IT HAS GOTTEN SO VERY COLD LATELY AND IT HAS SNOWED 2 TIMES SO I GUESS ITS GOING TO BE A COLD WINTER, I JUST HOPE WE HAVE SNOW FOR XMAS!!! WELL THATS ALL PEEPS GOTTA DO SOMETHING MORE PRODUCTIVE!! SEE ON THE FLIP SIDE
ANG**
**Hey there well its me again its like November 22. Any ways two days ago was the 2 year anniversary of my dads death. It was pretty sucky I hate this time of year anymore its so sad. But any ways. Well it has snowed here already like 2 times. I cant believe it is snowing already but hopefully this means a white Xmas! Maybe that would be soo sweet!!! Well thanksgiving is tomorrow I think we are having ribs sounds good to me! anyways just wanted to say hey! See ya
ang!
**Hey there wow its been a while since I have written in here but to get ya up to date. We did have a white Christmas this year and it was the coolest. I couldn't believe it but I happened. Deejay and me and came up with a way to do business selling ferret stuff (posters calendars, tee-shirts). So that's our next endeavor. welp gotta finish updating I put new pics in today so go check it out and sign my book damnit!
thanks
ang :o)

here's my dad Robert fishing at duck creek**
**Hey! March 1st, its been a while I guess. It still pretty cold out here right now I am hoping it gets warmer. Well my birthday is coming up on the 10th so that's cool I be 22 finally. :o) not sure what I am going to do I have like 6 days off I know I am going to party but where and when is still up in the air! I cant wait yea! Deejay and I are planning a trip to Washington we might move there just to go and do other things you know I think it will be fun to live around water I think it would be fun! Plus its much bigger than where I am now! :o) OK well IM outtie see ya
ang.
**april 8, 2001. Well I just went out and got my fourth tattoo three days ago. I got it in memory of my dad. Its really cool I designed it. Its our zodiac sign (Pisces). I made it so the heads of the fish came together at the bottom and the tails of the fish come together at the top to form a heart its soo sweet. I love it allot. I put his name on top of it also. I got a pic on my tat page but it didn't turn out very well I will be getting another one though. Tats are soo fun but let me Tell ya this one hurt like no other. And still does 3 days later it was worth it though. anyways its spring time out here in Colorado and its been raining allot but its all good cuz that just means will have a green summer.. sweet! OK well IM going to finish changing up my site. If your reading this sign my book damnit! ill see ya on the flip side! Bye ang